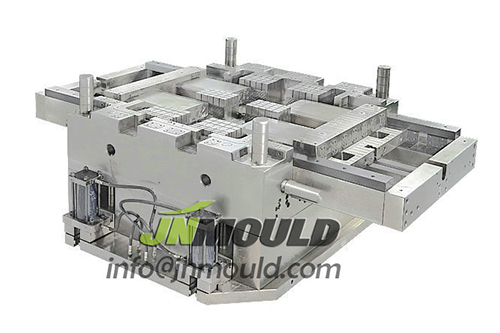 Jnmould is a China plastic pallet mould manufacturers. We have a professional R&D team in the production of China plastic pallet mould. Our pallet moulds include box folding pallet moulds, flat nine-point pallet moulds, large flat nine-point pallet moulds, grid Chuan word pallet moulds, field-shaped double-sided pallet moulds, and so on.
We have large-scale pallet mould processing equipment, pallet injection moulding equipment, and can produce pallet moulds of various sizes for customers. At present, most of the plastic pallets circulating on the market use thermoplastics such as PE\PP. In order to increase the service life and load-bearing capacity of plastic pallets, some additives to improve performance are added to the raw materials, which are processed by injection moulding, blow moulding and other processes. The advantages of plastic pallets can be summarized as follows:
1. Various designs of plastic pallets can be lifted and inserted on all sides, easy to be operated;
2. The plastic pallets can be stacked on each other in the warehouse and is suitable for use on all kinds of shelves;   
3. Suitable for all kinds of truck transportation, convenient for the containerized and unitized transportation of materials;   
4. Convenient for handling tools such as forklifts and hydraulic pallet trucks;   
5. With anti-skid rubber to ensure that the materials will not slip off during handling and transportation;  
6. Long service life, and can be recycled;  
7. The plastic pallet is safe, hygienic, insect-proof and moth-proof, no need to repair.
The characteristics of the plastic pallet moulds are large moulding area, large wall thickness and hole grid changes, many vertical and horizontal ribs, and many parting surfaces of the mould. Therefore, the design of the pallet mould should not only consider the ejection mechanism and the pouring system of the pallet, but also ensure the tight fit of the mould during injection. For large moulds such as pallets, we analyzed the characteristics of the integral straight type with compartments in the middle. In the design, the four sliders were gathered in an integral cone-shaped mould sleeve and divided into four sliders so that the sliders The slideway makes reciprocating motion. When locking, the clamping force of the injection machine is used to lock the sliders in the tapered mould sleeve to avoid loosening during melt filling. This plastic mould is designed as a building block structure.